Head of Ukraine's Zaporozhye Region orders preparations for referendum on joining Russia
The announcement was made on Monday at a 'Together with Russia' forum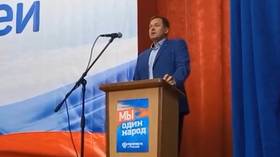 Zaporozhye Region will hold a referendum on whether to secede from Ukraine and request joining Russia, the head of its administration announced on Monday.
Evgeny Balitskiy said that he had signed an order to organize the plebiscite during a regional forum held in the city of Melitopol. Over 700 representatives from various parts of the Ukrainian region approved the idea, according to RIA Novosti.
Earlier comments by administration officials indicated the referendum may be held as soon as mid-September.
Russian forces took partial control of the region during the initial offensive against Ukraine launched in late February. The eponymous city located in the north of the region on the Dnepr River remains under Ukrainian control.
Officials in Kherson Region, another Russia-controlled part of Ukraine, voiced similar plans to put to a vote the proposal of breaking away from Kiev and seeking to join Russia.
Ukrainian President Vladimir Zelensky on Sunday reiterated a warning that if the two regions go through with their plans, Kiev will break off all talks with Russia. Moscow in response suggested that the Ukrainian president should address the citizens of those regions.
"If it's the citizens and the leadership of Russia, then it was not the right address. Zelensky should talk to his own citizens and ask why so many of them don't want to live in his country," Kremlin spokesman Dmitry Peskov commented on Monday.